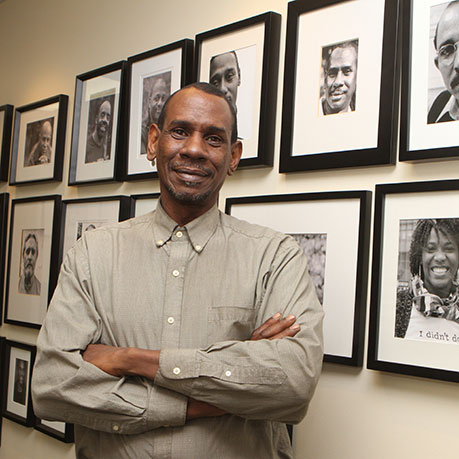 Edward Baker
Philadelphia, PA
After spending 26 years in prison for the robbery/murder of a south Philadelphia, PA retiree, Edward Baker was freed in December 1999 when a judge ruled that "there is evidence pointing to perpetrators other than the petitioner". At a 1996 evidentiary hearing, the star witness against Baker remorsefully told the Judge that he was the real killer and that he falsely incriminated Baker at the original 1974 trial to spare himself a natural life prison sentence.  Inspired by Centurion Ministries to tell the full truth, the recanting killer also named his confederates in this crime which Centurions' investigation was able to corroborate to the satisfaction of the judge.
Once freed, retrial seemed imminent.  However, when the DA was presented with Ed Baker's refusal to accept any kind of a plea agreement, a passed polygraph conducted by a nationally renowned polygrapher, and a witness list that included twelve alibi witnesses, the DA agreed that a retrial was pointless.  On February 11, 2002, the Philadelphia District Attorney's office decided not to retry Mr. Baker and all charges were dropped.
While in prison, Ed became skilled in electrical work.  After he was released, Ed pursued the electrical workers examination and passed it.  One of his first jobs as an electrician was working at Veteran's Stadium in Philadelphia, PA.
Related Articles
Life After Exoneration: How a Man Rebuilt His Life After a Wrongful Conviction
By Bobby Brier
the Cl!ck
June 5, 2022
Free and Clear
By Sean M. Riley
South Philly Review
February 21, 2002
With Murder Case Dismissed, S.Phila Man Finally Freed
By Michael Klein
The Philadelphia Inquirer
February 12, 2002
Conviction Overturned: South Philadelphia Man Seeks Bail
The Philadelphia Inquirer
By Michael Klein
December 14, 1999