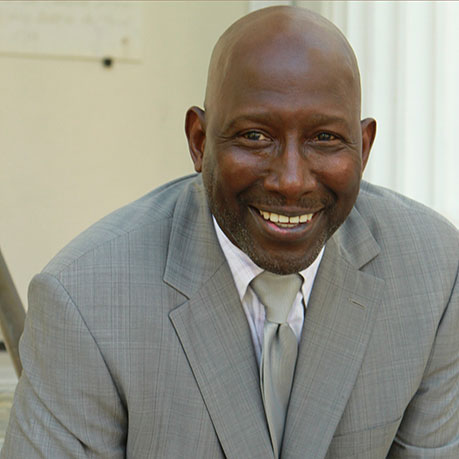 Michael Austin
Baltimore, Maryland.
Years served: 27.
Charges: Murder in the First Degree, Grand Larceny (two counts), Hand Gun Violation.
Date Convicted: March 27, 1975
Sentence: Life imprisonment for Murder, plus 15 consecutive years for the hand gun charge and ten years for Grand Larceny.
Factors contributing to wrongful conviction: Ineffective counsel, perjury, violation of due process, prosecutorial misconduct, improper jury instruction.
Date Freed: December 28, 2001
Michael Austin spent 27 years in prison, falsely convicted of killing Roy Kellam in a Baltimore City grocery store robbery on April 29, 1974. Michael had nothing to do with the murder or the robbery. Michael's family hired an attorney to represent him but the attorney was confused by the trial calendar and was not prepared for the trial. He explained that to the Judge, but the trial began as scheduled, and to Michael's detriment.  His attorney did not subpoena witnesses to support Michael's alibi, or question another eye witness. He made other errors as well.
Michael was convicted on two pieces of evidence: false testimony from the State's key eye witness, and a business card from Michael's wallet linking him to an alleged accomplice. The eye witness described the shooter to police on the day of the crime as much shorter than Michael but he selected Michael from a photo array over a month later and identified him in the court room during the trial. Another eye witness who never selected Michael from photos or a lineup was not called to testify. The alleged accomplice was found not guilty at his own, later trial, making the card that linked them irrelevant.
The errors and injustices at his trial sent Michael to prison. The complicated appeals system wherein multiple courts reviewed separate aspects of Michael's case without examining the overall fairness of the trial kept him in prison despite his innocence. Michael gained the support of many unlikely and influential people, as he struggled to regain his freedom including the Mayor, the prosecutor in his case, Joseph Wase, and the Prison Warden who noticed and supported Michael's interest in music.
Centurion's investigation discovered new evidence allowing for Michael's attorneys, Larry Nathans and Boothe Ripke, to gain a Motion to Reopen Post Conviction on March 23, 2001. In ruling on the motion, Baltimore Circuit Judge John Carroll Byrnes reversed the conviction of Michael Austin calling it "plagued by errors" and writing that, "Our capacity to right a wrong is a measurement of our true commitment to due process and justice as a State." On January 3, 2002, the Baltimore States Attorney decided not to retry him and dismissed all charges. On November 17, 2004, in a further attempt to correct the wrongs against him, the Maryland Board of Public Works approved a compensation package for Michael. In 2021, Michael was granted additional compensation from the Maryland Board of Public works pursuant to the Walter Lomax Act.
Today, Michael is a successful jazz and blues musician who has released multiple albums and performs for audiences throughout the country. He also offers music programs to Baltimore City middle school students living in underfunded communities.
Related Articles
'Today I Have Nothing' Austin Tells House Panel: Bill Would Ease Compensation of Wrongly Incarcerated
By Tim Craig
The Baltimore Sun
March 17, 2002
Becoming Attuned to a New Life
By Todd Richissin
The Baltimore Sun
February 17, 2002
Jessamy Says She'll Drop Case Against Austin
By Sarah Koenig
The Baltimore Sun
January 4, 2002
After 27 Years In Prison, Austin Released on Bail
By Todd Richissin
The Baltimore Sun
December 29, 2001
After 27 Years, Justice Overdue
By Todd Richissin
The Baltimore Sun
March 18, 2001
The full story…
The crime.
At 5:20 p.m. on April 29, 1974 two black men robbed the cashiers at the Crown Food Market on Preston Street in Baltimore City and shot the security guard, Roy Kellam, who died. The robbery and murder took less than 10 minutes  and the pair got away with almost $4,000 in cash.
The investigation.
Police arrived, interviewed several witnesses  including the store clerks Jackie Robinson and Eric Komitzsky. Komitzsky told police that the suspect who shot Kellam was not taller than himself, 5'10". Robinson described the man who shot Kellam as being 5' 8", weighing 150 to 160 pounds and light skinned. Robinson described the second suspect as even smaller – 5' 5" and weighing 130 to 140 pounds. Neither witness came close to describing Austin who is 6'5" tall and weighed over 200 pounds at the time. The crime scene investigation did not provide any physical evidence to incriminate Michael Austin.
Approximately one month after the crime, the police released a composite drawing of the suspects. A week after that, a tipster came forward to identify Michael Austin and Horace Herbert, a career criminal as the robbers. With this information, police put together a group of photos including Michael Austin and Horace Herbert, to show the witnesses. When police showed Robinson the photographs, he identified Austin as the killer and Horace Herbert as the other suspect. Police showed Komitzsky the photos twice, but he did not select Michael Austin either time. When Komitzsky attended a lineup including Michael, he also did not pick him out of the lineup.
The arrest.
Michael Austin was arrested based on a tip and photo identification by one of the eye witnesses.
Michael's Austin's alibi.
Michael was at work until 4:53 p.m. on the day of robbery and murder, which occurred at 5:20 p.m., six miles from Michael's work. Michael wore a flame retardant suit and boots at work. He showered and changed out of those every day after clocking out. Michael did not have a car but even if he did, it is unlikely he could have showered, changed and arrived at the crime scene in time to commit the crime. Michael obtained a photo static copy of the card for evidence at his trial, but it was not legible. His attorney did not obtain the original time card, did not call witnesses to support the time card copy, or attest to Michael's habit of changing after clocking out and time required to do so.
The trial.
Jackie Robinson was introduced to the jury as a responsible college student attending a community college on scholarship when in fact he was a drug dealer and user who had not finished high school. In the court room at trial, Jackie Robinson identified Michael Austin as the robber and shooter. Michael's attorney challenged the identification, reminding him that the height and weight description he gave the police on the day of the crime could not possibly be Michael. Robinson conceded his description was off but stuck to his identification. The other cashier and eye witness, Eric Komitzsky who did not select Michael from photos or from an actual lineup was not called to testify.
Following a lunch break during the trial, a police detective brought to the prosecutor's attention a business card from an envelope of possessions taken from Michael at his arrest. The name of the alleged accomplice, Horace Herbert was written on the back. The prosecutor then doggedly questioned Michael about knowing Herbert Horace. After Michael repeatedly denied knowing him the prosecutor dramatically brought out the card, without first properly or timely informing the defense of its existence.
The judge ordered all references to Horace Herbert stricken from the record, but then improperly allowed the prosecutor to refer to the card and Horace Herbert in his closing statement. Horace Herbert was tried later and acquitted, in part because Jackie Robinson who testified at Michael's trial that Michael was the shooter stated in the open court room at that trial that he had not seen either of the individuals that participated in the robbery and murder. Horace Herbert's acquittal made the business card irrelevant, but the prosecutor had already used it to brand Michael a liar and connect him to the alleged accomplice.
Michael filed nine appeals and petitions to various courts in attempts to win his freedom before Centurion became involved. While he won a couple of minor concessions with these proceedings, he remained incarcerated.
Centurion's investigation.
Centurion's investigation, headed by Steve Delaney, discovered significant new exculpatory evidence, including additional witnesses not previously shared with the defense, their descriptions of the suspects which could not have been Michael Austin, and additional suspects identified by reliable informants, one of whom Eric Komitzsky called "a look alike for the shooter."  The State's key eye witness, Jackie Robinson had died of a drug overdose by then. Centurion obtained an affidavit from his brother, Harry saying that Jackie Robinson had confided that he had lied to help convict an innocent man in this crime. With the new evidence, Centurion, along with his attorneys Larry Nathans and Boothe Ripke of Nathans & Biddle LLP,  filed the motion to Re-open Post Conviction which brought Michael his freedom.
In response to that motion, Judge John Carrol Byrnes reviewed the facts of the trial and all of the motions, petitions, and appeals that followed. He said that Michael was certainly denied a fair trial and that even though Michael had exhausted his right to complain about many of those problems, the court was obliged to consider "several serious assaults on due process" and ordered that Michael be released on $10,000 bail and granted a new trial. Within a week of that order, the State's Attorney decided not to retry Michael, and dismissed all charges. In 2002, a special bill passed by the Maryland State Legislature, sponsored by 33 state legislators, enabled Austin to receive special compensation  by the state for 27 years of false imprisonment. On November 17, 2004 he was awarded compensation for wrongful incarceration.
Michael has done a very admirable job of getting back his life, pursuing his passion for music by offering music programs to Baltimore City middle school students living in underfunded communities, pursuing his musical career, releasing several CD's, and preforming at fundraisers and concerts.  He also spends time in South Africa working with street kids by playing music with them, and he never turns down an opportunity to speak to children in the schools in Baltimore.   He believes he is a walking cautionary tale and one of redemption.