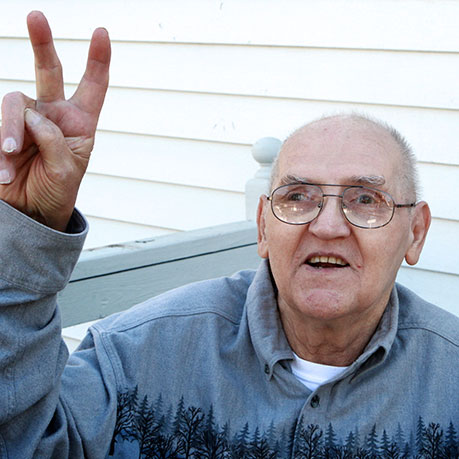 Milton Scarborough
Lycoming County, PA
Milton Scarborough Freed After 36 Years of False Confinement
In 1977, Milton Scarborough was convicted along with two others of the murder of a central Pennsylvania family. Prior to the trial, Milton was offered a deal by the Lycoming County authorities. If he would testify against his co-defendants, the State would assure him a non-custodial sentence of probation. Milton rejected the offer, telling his attorney that, "I can't go in there and lie against them. I don't know anything about this crime because I had nothing to do with it."
Consequently, Milton then fell victim to the false testimony of three young drug addicted criminals who, in exchange for leniency on their own criminal charges, concocted a false story that implicated Milton and his co-defendants. All three of these witnesses have since recanted their testimonies expressing deep remorse for their past treachery in this matter. All three maintain that they were told what to say by Pennsylvania State Police investigators.
As an example, 19-year-old Ricky Snyder at a 1980 post-conviction hearing, under threat of perjury, bravely told the judge that he lied at trial "because the police were drilling it into me and they said they will help me get out of jail if I go along with it." Colin Brown, also 19 years old at the time of trial, told CM in his 2008 affidavit, "I was scared to death that I would go to prison for the rest of my life as a child murderer if I didn't do what the state police wanted me to do. …. Even though I did not then and do not now have any knowledge of these murders, I remember telling the police "tell me what you want me to say and I will say it".
The remaining primary witness for the prosecution, John Shafer, also 19 years old at the time, recanted his trial testimony, too. He did so in an affidavit to the courts and in an interview with the Philadelphia Inquirer. He told the Inquirer that, "I've been thinking about it [his false trial testimony] for years and years.  What I did was wrong.  It was wrong, wrong, wrong."  In failing health, John added that he doesn't "want to be dying with this on my head.
Nevertheless, CM's 13-year effort to reverse Milton's conviction through post-conviction hearings failed to obtain judicial relief, and the outlook for pending appeals to the higher Pennsylvania courts was bleak.
With prospects of freedom appearing very dim for Milton, attorneys Leonard Sosnov and David Rudovsky of Philadelphia approached the current Lycoming County District Attorney with Milton's approval and CM's concurrence to suggest a resolution of pending litigation. Since Milton had already served 36 years of a 30-60 year sentence, Milton would agree to drop all pending appeals in exchange for his sentence being adjusted to time served. Much to CM and Milton's satisfaction, the DA agreed to this proposition.
As a result, 73-year old Milton Scarborough walked out of the State Prison in Somerset, PA a free man on Friday, August 23, 2013. Waiting to transport him to his new home, where he will live with his niece, Bobbi Hostetler, were CM's executive director Jim McCloskey and CM case investigator, Bill Raynor, along with Ms. Hostetler.
CM began its work to free Milton in 2001. CM investigators Paul Henderson and Bill Raynor were responsible for uncovering and developing the new evidence that CM presented to the courts. Bill Raynor deserves special recognition for his relentless and determined work, as well as for the unwavering moral support he provided to Milton since the very beginning of his work on this case. Milton would not be home today were it not for Bill's tireless advocacy. All of us at CM heartily thank both men.
We also want to credit Williamsport attorney Ron Travis for his vigorous legal representation of Milton for many years.
Last but not least, CM and Milton are indebted to attorneys Leonard Sovnov and David Rudovsky for securing Milton's freedom.
Related Articles
Deal Frees Murder Defendant After 36 Years
by Robert Moran
The Philadelphia Inquirer
August 25, 2013
State Court Overturns
DNA Testing Order
by Matt Miller
Penn Live / The Patriot News
July 9, 2013
Bill Would Extend Deadline to Appeal
by Willim Marimow
The Philadelphia Inquirer
June 23, 2011
Change On Timing Of Appeals Sought
by William Marimow
The Philadelphia Inquirer
May 6, 2011
Waiting For Justice
Editorial
The Philadelphia Inquirer
April 26, 2011
Cleared By Accusers, Kept In Jail By PA Law
By William Marimow
The Philadelphia Inquirer
April 24, 2011