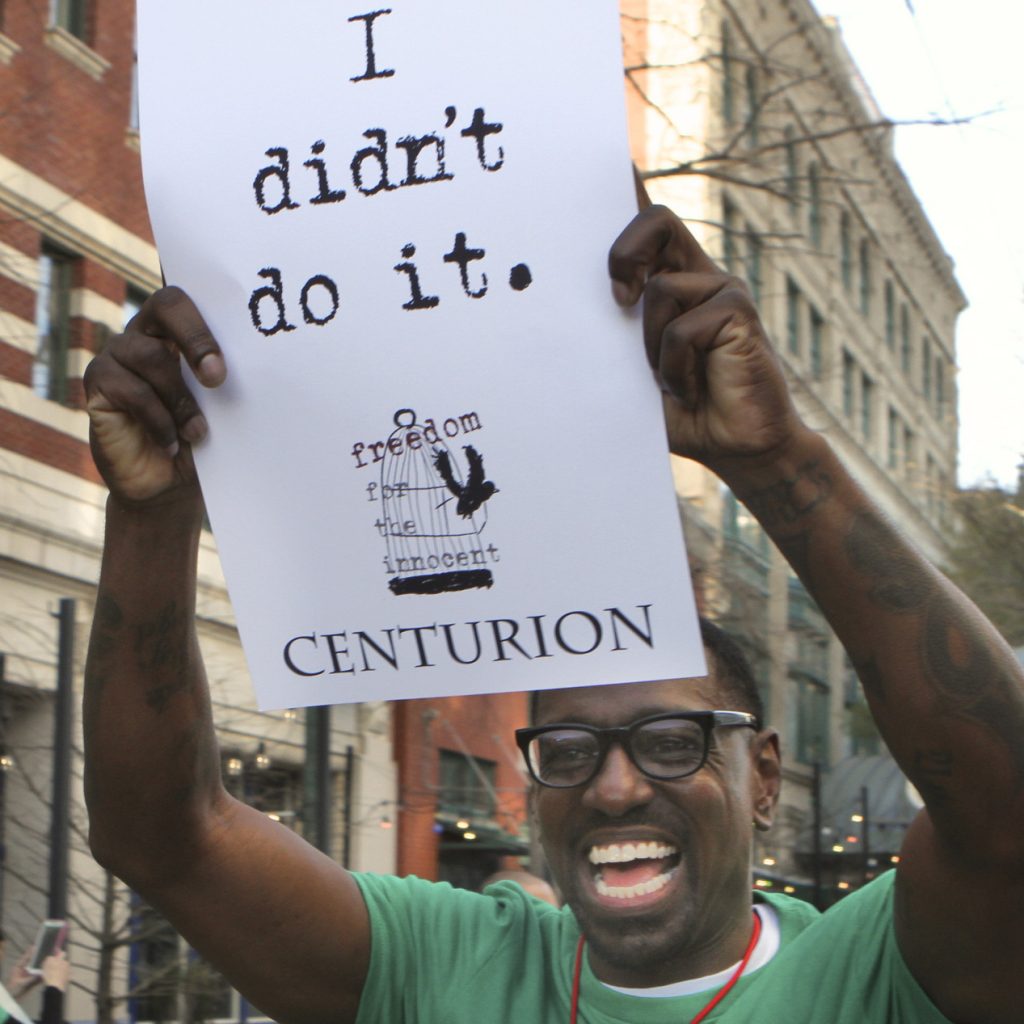 Lamonte McIntyre
Lamonte McIntyre
Kansas City, Kansas
Years Served: 23
Charges: First Degree Murder, two counts
Date Convicted: September 29, 1994
Sentence: Two life sentences, consecutive
Factors Contributing to Wrongful Conviction: Mistaken witness ID, perjury or false accusation, official misconduct, insufficient assistance of counsel.
Date Freed: October 13, 2017
Lamonte McIntyre was just seventeen years old when he was arrested for committing a double murder in Kansas City, Kansas. He had nothing to do with the crime. A gross miscarriage of justice led to his conviction and stole 23 years of his life. When he finally won back his freedom with Centurion's help, he was 41 years old. While incarcerated Lamonte learned to barber and earned an Associate Degree in Business Administration but at 41 had no Social Security benefits, no insurance and no compensation from the state for the wrong he suffered and time he spent in prison. When Lamonte was exonerated, Kansas was one of eighteen states that did not take financial responsibility for wrongfully incarcerating innocent citizens. On May 15, 2018, Kansas finally enacted a law providing compensation for the wrongfully incarcerated.
On April 15, 1994, someone shot Donald Ewing and Doniel Quinn in the middle of the afternoon while they sat in a parked car about a mile from Lamonte McIntyre's home. Two people who witnessed the shootings from across the street erroneously identified Lamonte McIntyre as the shooter from a photo line-up. One of those witnesses, a cousin to both victims told ADA Morehead before the trial, when she saw Lamonte in person that he was not the murderer. Morehead threatened her with contempt charges and losing her children if she did not continue with her testimony as previously agreed. She formally recanted her identification two years after the trial in a signed affidavit saying that police forced her to identify Lamonte by threatening to take away her children if she did not cooperate. Her sister who had not been interviewed before also came forward with a signed affidavit saying that she witnessed the murder, saw the shooter and it was not Lamonte.
There was no physical evidence, no weapon, no motive, and no connection between Lamonte and the victims. Five alibi witnesses accounted for Lamonte's uninterrupted presence away from the crime scene prior to, at the time of, and after the murder.  He was still convicted.
The coerced, false identification was only one of many barriers to justice in Lamonte's case. The prosecuting attorney had a prior romantic relationship with the judge which was not disclosed.  Roger Golubski, the lead detective in the case was well known for misconduct and for exploitation of black women. Witnesses eventually came forward to say his behavior and reputation caused them to lie or withhold exculpatory information. The prosecution also withheld exculpatory information. The attorney appointed to defend Lamonte at trial, Gary W. Long, was placed on supervised probation by the Kansas Supreme court shortly after that appointment for errors made in three prior cases. Long's poor representation of clients continued and he eventually surrendered his license. He was disbarred in 1998. When Lamonte filed a post-conviction motion for a new trial contending that his original trial was not fair, the court appointed Mark Sasche to Lamonte's case. He never communicated with Lamonte prior to his hearing, did not bring any evidence, any witnesses or even Lamonte to court. The motion was lost.  Sasche mishandled several other cases at the time he was representing Lamonte and he was eventually disbarred as well.
The full story…
The crime.
Donald Ewing and Doniel Quinn were sitting in a parked car on Hutchings Street in Kansas City, Kansas at 2:00 in the afternoon on April 15, 1994, when a black man dressed all in black, walked down the hill of a vacant lot from the direction of Hiawatha Street and shot both men through the passenger side window with a 12 gauge shotgun. At least four people witnessed the shooting. The gunman then ran back over the hill and was observed by Breon Shelton getting into the passenger side of an older model, four-door Chevrolet Caprice parked on Hiawatha Street.  Doniel Quinn who was sitting in the passenger seat died immediately. Donald Ewing, seated in the driver's seat was pronounced dead later that afternoon at the hospital.
The investigation.
Witnesses.
Police canvassed the neighborhood for witnesses immediately after the murders. Several residents had observed the crime and had seen the killer from inside or near their homes.
Ruby Mitchell. Ruby gave many and varied descriptions as well as contradictory identifications of the shooter, beginning with what she said to Detective Kristolich when he interviewed her inside her home at 2:55pm  following the crime. Then, Ruby said she had been standing at her front door and saw the shooter walk down the hill toward the victims' parked car carrying a short, brown handled shotgun. She said he wore all black clothing and his hair was slicked back. She saw him pump the gun and shoot into the car then he walked back up the hill. When asked "Did you see his face?' she responded, "Well, he's brown skinned, that's all I could tell." That interview was recorded, but that statement was never referenced at trial.
Later that day, she contacted police to say that she knew who the shooter was, a young man named Lamonte that she knew through his contact with her niece. Det. Golubski picked up Ruby and drove her to the police station to assist in making a composite likeness of the shooter. After creating the composite, she identified the shooter from an array of five photos, consisting of Lamonte McIntyre (given to the detectives by Assistant District Attorney Vicky Meyer), a photo of his brother, a photo of his cousin, and two photos of other young black men. The array did not include a photo of Lamonte Drain, the Lamonte who Ruby knew through his contact with her niece and had originally told police that she recognized as the shooter. It did not include any men with the "slicked back" hairstyle Ruby described when she was first interviewed.
At different times Ruby described the shooter's hair as "slicked back," as "French braids," a style worn by Lamonte Drain at the time of the crime, and after viewing the photo array as "short …on the sides and long…on top," the style worn by Lamonte McIntyre in his photo. When asked at trial about the  shooter's hair she said she hadn't been "paying attention to hair" but was instead "focused" on the shooter's "face"; an incredible claim since Centurion's investigators discovered she had viewed the shooting through a screen door and a screened in porch from a distance of over 100 feet.
Later, Ruby reported that as Golubski had driven her to the station on the day of the murder he made her very uncomfortable, telling her she was pretty, that he likes to go out with black women and asking if she dates white men. His remarks made her feel nervous, vulnerable, and afraid that he was going to arrest her for solicitation or offer her money for sex. She had reason to fear him and succumb to his influence in identifying Lamonte McIntyre as the shooter. She knew his reputation for intimidating black women to elicit sexual acts under threat of arrest.
Niko Quinn. Police interviewed Niko Quinn three times. Detective Smith first interviewed her at 2:46pm the day of the murders. She reported that she had seen the killer dressed in black, with a shotgun in his hand, walk towards the victims' parked car, shoot the victims then walk back up the hill toward Hiawatha Street. She was standing at a tree between Ruby Mitchell's house and a vacant lot when she saw the crime. She had been on her way to her mother's house, just past Ruby Mitchell's house. She said that she could recognize him if she saw him again.
The next day, after Ruby Mitchell identified Lamonte McIntyre from a photo line-up, Detective Golubski interviewed Niko at her home. He showed her the same, five photo line-up that he had shown Ruby Mitchell when she chose Lamonte McIntyre as the shooter. According to Golubski's report, Niko said that she thought number 3, Lamonte's photo was the shooter but she could not be sure.
Sometime later, Niko contacted Det. Golubski saying she needed to meet with him again. She had noticed two men on the vacant lot near her home and worried that they were connected to the murders. Golubski said that he would help her move away and later did. They met at the high school and this time, she identified Lamonte McIntyre's photo as the shooter. Golubski did not memorialize that meeting or the identification in any way and admitted that when questioned by attorney Long at trial. He also admitted that he did not mention it to anyone until he told ADA Morehead about it sometime between the preliminary hearing and the trial.
When Niko saw Lamonte McIntyre at the courthouse, she knew immediately that the man on trial, whom she had chosen from the photo array, was not the shooter. Before she testified she told ADA Morehead twice that police had arrested the wrong man. Morehead dismissed Niko's concern and threatened her with contempt charges, jail and losing her children if she did not testify as previously planned. Under pressure, Niko complied.  Her coerced, false testimony helped convict the wrong man.
When Centurion reinvestigated the crime years later, Niko revealed how police had intimidated and misled her when she first viewed the photo line-up including saying they had arrested the shooter and had the gun, when they did not have it. She also told of giving police an important lead on nearby drug dealers who had a motive to harm Doniel and told them that he had recently been beaten by men from a drug house where he had been staying. Police never followed up on these leads.
Josephine Quinn and Stacy Quinn. Josephine lived directly across the street from the crime scene. She and her daughter Stacy were both home and witnessed the shooting. Josephine heard three or four shots as she walked out her front door then she saw the murderer pump his gun, shoot two more times, and run away.  Josephine's daughter, Stacy ran out of the house just before the shooting because she heard her mother and uncle arguing. When she stepped outside she saw them in the middle of the street and also saw the shooter approaching the parked car where the victims were shot. When she saw that the man approaching the car, she shouted at her mother to get down. After he shot out the windows, Stacy saw that her cousin was in the car and to her mother "It's little Don," then ran to the car while her mother, Josephine dialed 911.  The next day, Detective Golubski showed Josephine the 5 photo line-up, but she could not identify anyone in it as the shooter. She did tell Golubski that her daughter knew the shooter
When the trial began, Josephine went to the court to see if her testimony was needed. ADA Morehead said it wasn't, so Josephine left. She saw Lamonte McIntyre in court that day. The next day, Josephine called Morehead to ask if the man she had seen in the courtroom was the accused.  Morehead said he was and Josephine told her that he could not be the shooter; the shooter had lighter skin, was shorter and had a professional haircut. Morehead dismissed her statements saying that it was in the jury's hands now.  Two years later, Josephine gave attorney Mark Sasche, Lamonte McIntyre's court appointed attorney for the motion for a new trial; an affidavit echoing what she had told Morehead. She said she knew Lamonte McIntyre was not the killer because he was too tall, his skin was too dark, and his lips protruded too much.
Stacy, who had the best view of the shooter, did not testify at trial. She was never even interviewed by the police. Records say that she was "not available," but she was known to have an ongoing sexual relationship with Detective Golubski.
She did testify at a post-conviction hearing in April of 1996, describing the shooting in detail and saying that Lamonte McIntyre could not be the murderer because he was too tall, his face was too long and his lips were too big. She described his hairstyle as "French braids" not the style worn by Lamonte McIntyre at the time of the murder. Stacy also testified at the hearing that she had seen the real shooter twice since the murder and Lamonte's incarceration. Stacy's testimony clearly exonerates Lamonte, but Judge Burdette rejected it as not credible. Over the years, Stacy continued talking to people about the murder, including telling her sister Niko that a young man named Neil Edgar, also known as "Monster" had been paid by Cecil Brooks to kill Doniel.
Centurion's Involvement
Centurion founder and investigator Jim McCloskey traveled to Kansas City seven times between May of 2009 and October of 2010 to investigate Lamonte McIntyre's claim of innocence before committing to his case. His investigation included countless meetings and interviews with witnesses, family and acquaintances of the victims, of Lamonte, of alternate suspects and the disbarred attorneys who had represented Lamonte as well as others mentioned in those interviews. Jim's investigation led him to interview Cecil Brooks in prison in where he was serving time for second degree murder.
Jim's interview with Cecil confirmed what his investigation suggested. "Monster," not Lamonte was the killer. Centurion obtained a signed affidavit from Cecil Brooks wherein he provided a full account of the background and circumstances of the crime. He described "Monster" as a 15 or 16 year old at the time of the murders who loved Brooks' cousin, the drug kingpin Aaron Robinson and would do anything for him. He explained that on the night before the murders he had gone to Aaron's spot where Aaron, "Monster" and a man named Marlon were talking about Doniel Quinn stealing drugs.  "Monster" was given $500 upfront to commit the murders and was promised more that was never paid. He explained that Marlon had driven "Monster" to the area of the shooting in Aaron's car and waited, then drove him away after the murders. Brooks said in the affidavit that he knew "Monster" had also killed "a white guy."
On July 12, 2016, Lamonte's local counsel, hired by Centurion, filed a Memorandum of Fact and Law In Support of Lamonte's Motion to Vacate, Set Aside, or Correct Sentence. Brooks' affidavit, the Quinn sisters' affidavits and over forty more obtained through our investigation were part of that motion which detailed recanted testimony and disproved evidence against Lamonte McIntyre. Three other compelling affidavits Centurion obtained that were included in the motion make clear the extent of the errors and deficiencies in the police investigation.
Retired Kansas City Police Department Detective Randy Eskina who cited deficiencies in the investigation that "span several categories, resulting in the reaching of premature and unsupported investigative conclusions" so that "potentially valuable evidence was never gathered and the entirety of the State's case rested on two dubious eyewitnesses whose accounts were filled with discrepancies."
Ronald Singer, a qualified forensic expert, saying "in my opinion, because Mr. McIntyre was initially linked to the scene only through eyewitness testimony, it was essential that a thorough evaluation of physical evidence available be conducted in order to support or refute the eyewitness testimony. Failure to do so potentially hampered Mr. McIntyre's ability to prepare an adequate defense."
Retired FBI agent Al Jennerich, recalling that when he conducted interviews in the Wyandotte County jail in the 1980s and 1990s Golubski "was a well-known detective… (who) used the authority of his position to extort sexual favors from black females. The women complied with his demands because they knew they would be arrested if they said no."
On October 12, 2016 an evidentiary hearing on the motion was convened in Wyandotte County District Court. Family members of the victims who believed Lamonte McIntyre was innocent were among the first to testify. On the second day of the hearing, after the lunch recess District Attorney Dupree asked Senior District Judge Edward Bouker to vacate McIntyre's conviction. He did and Dupree dismissed the charges. The judge said his action was to correct a gross injustice but did not admit any misconduct on the part of Burdette, Morehead or Golubski. Lamonte McIntyre was free at last!
In October of 2018, Lamonte filed a federal civil rights suit against Golubski and 8 other police officers.  In March 2019, he filed for state compensation for wrongful incarceration. Metropolitan Community College in Kansas City, Missouri, awarded Lamonte a full scholarship to attend college at their Penny Valley Campus.  Lamonte is part-owner of a barber school he graduated from and has opened a second location in Kansas City, Missouri. He is also a board member of Miracle of Innocence, an innocence organization founded by fellow Centurion exoneree, Darryl Burton. Lamonte will finish his BA degree in Business Administration in 2019.
IN MEDIA
Lamonte McIntyre talks about voting in first election since being exonerated